Wreath 3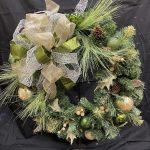 Christmas wreath with silver, gold, and green bow.
Retail Price:  $80.00
Kendall bid $20.00 on December 13, 2021 10:27 pm
Enter your email below to get notifications of new bids placed on the above item.
Shipping Details
Shipping: n/a
From: n/a
To: n/a
Payment Details
Winner will receive PayPal payment link via email.