Vintage Entryway Table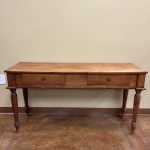 This vintage entryway table will look great in your home.
2 drawers
*Has a few blemishes on the top.
Enter your email below to get notifications of new bids placed on the above item.
Shipping Details
Shipping: n/a
From: n/a
To: n/a
Payment Details
Winner will receive PayPal payment link via email.