Ruthie's Tex-Mex Gift Certificate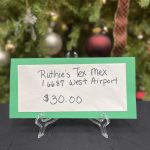 This $30.00 gift card does not include gratuity or alcohol.
Teresa Guest bid $25.00 on December 12, 2021 11:02 am
Rozanne Smith bid $20.00 on December 4, 2021 12:48 pm
Glenn Farley bid $15.00 on December 2, 2021 11:17 pm
Rozanne Smith bid $10.00 on December 1, 2021 9:41 pm
Enter your email below to get notifications of new bids placed on the above item.
Shipping Details
Shipping: n/a
From: n/a
To: n/a
Payment Details
Winner will receive PayPal payment link via email.