Holiday Arrangement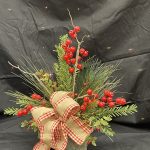 This Holiday Arrangement would make a great centerpiece on your table.
Retail Price: $25.00
Michelle Senna bid $15.00 on December 18, 2021 10:52 am
kaddicks bid $10.00 on December 12, 2021 11:50 am
Rozanne Smitj bid $5.00 on December 11, 2021 8:50 am
Enter your email below to get notifications of new bids placed on the above item.
Shipping Details
Shipping: n/a
From: n/a
To: n/a
Payment Details
Winner will receive PayPal payment link via email.