Homemade Italian Cream Cake - 2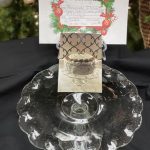 Homemade Italian Cream Cake from the kitchen of Rozanne Smith.  Includes a clear cake pedestal.
Text Rozanne Smith to coordinate order.
Retail Price:  $55.00
Alan L Mize bid $30.00 on December 14, 2021 8:37 am
Shelly bid $20.00 on November 28, 2021 12:38 pm
Enter your email below to get notifications of new bids placed on the above item.
Shipping Details
Shipping: n/a
From: n/a
To: n/a
Payment Details
Winner will receive PayPal payment link via email.