Antique Curio Cabinet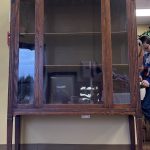 The Antique Curio Cabinet features a lock with key, solid oak with 2 shelves that have double plate groves and a glass front.
H 56.5"
W 44"
D 15"
Retail Price: $800.00
John Atkinson bid $85.00 on December 19, 2021 11:46 am
Angela Tubbs bid $80.00 on December 16, 2021 5:56 pm
Enter your email below to get notifications of new bids placed on the above item.
Shipping Details
Shipping: n/a
From: n/a
To: n/a
Payment Details
Winner will receive PayPal payment link via email.